LED packaging tends to be miniaturized and high-power, such as RGB and Mini LED, which put more stringent requirements on the heat dissipation of components. The die attach adhensive for LED is the key material leading the heat dissipation and bonding performance of packaged components. However, the traditional LED silicone die attach adhensive has low adhesive strength, and the epoxy die attach adhensive is prone to yellowing, which cannot meet the requirements of small size packaging applications. The epoxy modified methyl- phenyl silicone die attach adhensive has excellent adhesive strength and yellowing resistance, Our company has independently developed X380B and X280M series products with excellent performance.
After curing, the X380B product has a hardness of 82D, a high adhesive force, a bonding chip size of no less than 5 * 9 mil2, and a thermal conductivity of 0.20 W/m.K. It can fully meet the application scenarios of white light, RGB and mini LED of 0.2W and below, and has a broad market prospect.
X280M series products have a hardness of 78D after curing, and their aging performance is better than that of X380B series. Their adhesive force is slightly lower than that of X380B series. The size of adhesive chip is not less than 7 * 14 mil2, the thermal conductivity is 0.20 W/m.K, and the applicable power is generally 0.3W or less.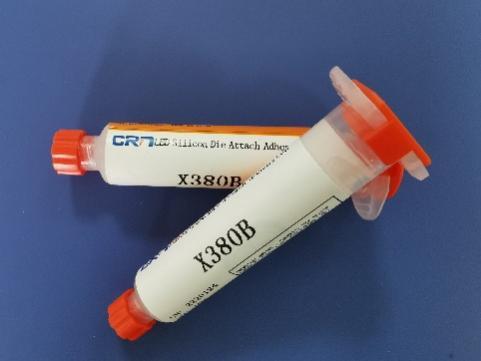 | | | | |
| --- | --- | --- | --- |
| Product Performance | Unit | X280M2 | X380B |
| Appearance | / | 半透明 | translucent |
| Viscosity | mPa.s @25 °C | 5500~9000 | 8000~12000 |
| Volatile Matter | % | <0.50 | <0.50 |
| Hardness | Shore D | 75~80 | 80~83 |
| Thermal Conductivity | W/m·K | 0.20±0.02 | 0.20±0.02 |
| Si/Ag Cohesive strength | g | 3110±300 | 4200±300 |
| Standard Curing Conditions | / | 160 °C/3h | 160 °C/3h |